Lucile
Friday February 19th, 2016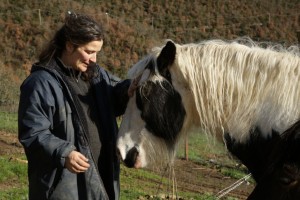 I am Christian and I want you to meet Lucile and tell you how we met.
Lucile was born in August 1976 in the French capital, Paris. She grew up in the 13th arrondisment which is the Chinese tenement district.
She studied to become a teacher but after her first year teaching, at the age of 24, she left the frantic and unnatural city life to look for something else… possibly with much home-sickness for the summers spent as a child in the little village in Provence or the adventures in the summer meadows in the countryside of different villages in France.
She has travelled a lot, from Asia to the Americas, looking for answers, searching for her inner femininity and her relationship with mother earth.
She moved to the south of the country where she practiced and performed in a circus-school and on weekends she ran a travelling anarchist library.
In 2003 after a "Rainbow Europeo" she joined a caravan of people, horses, donkeys, goats, dogs and fleas with the aim of reaching a free commune in Andalusia.
We met in this commune in 2005 where they all lived in teepees and yurtas, carefree, making music and circus acts, tending the vegetable garden, making many new acquaintances and enriching through exchanges of opinions. Massage, the market where they sold bread and handcraft, great festivities to celebrate the moon, dancing round a bonfire and masses of pizza.
A beautiful place to have children, to recharge ones energy and breathe freedom.
Lucile sewed dresses and hats and she even sewed the teepee and yurta she was living in.
She played the mouth organ and the accordion and she already had a son, Sole, who was born under an olive tree. Gioian Quercia and Elias Lensaita were also born there. Lucile has helped many women in childbirth and has become a point of reference for natural childbirth in this area which has witnessed more than 130 births.
But, as happens everywhere but mainly in such a free place, many things changed with time and the place became contaminated by consumist attitudes and a not-sincere relationship with the environment on a human level.
We left Andalusia in 2010 to move to Reggioli in 2011, the year Amanita was born.
Our aim was to create a centre for research and experimentation where old patterns are questioned,and to live in a more natural manner.
In 2014 our latest son JanRù was born.
However, to get back to Lucile, she loves music, art, handcraft and the circus and she loves to express herself giving full vent to her creativity.
She loves baking cakes with the children, taking the donkeys for walks, drinking wine and chatting. She makes fruit juices and jams, looks after the home and picks herbs which she uses to cure us. She loves exchanging seeds and looking after the greenhouse, taking care of the chickens, the dogs and the cats. She loves adventure and, above all, the unexpected.
She loves life and freedom to such an extent that at times she finds it hard to organise herself. Order and discipline are words that are unknown to her. She is spontaneity in person, always ready to let life carry her.
She is the woman I love the most.