Our Olive Oil
Wednesday November 21st, 2018
A story of happy people on happy trees
The olive grove of Reggioli dominates the high hills of Chianti and our 500 well-cared olive trees, arranged on terraces, grow right in the middle of wild, uncontaminated forest.
No synthetic or phytosanitary treatments are being used and the winter cut is carried out respecting the physiology of the plant.
This is why the extra virgin olive oil from Reggioli is of high quality while also being the fruit of a purely manual work done by happy pickers and curious, motivated visitors.
This year again we offer "first cold pressed" olive oil which fruity taste and deep green colour is achieved by picking the fruit at the right moment (invaiazione) and using appropriate mechanical processes.
The solidarity harvest
The Reggioli Farm is part of the WWOOF Volunteer Association, which connects young people from all around the world who want to help organic farmers. Thanks to their support and the help from the visitors of our agritourism we pick all our olives by hand without any machine which allows the olives to go undamaged and be perfectly preserved until pressing.
Our olive pickers are passionate and attentive not only because of the oil they get for themselves but especially because they believe in the merit of participative production.
You can read some thoughts written by some members of this multi-ethnic group that contributed to the production of our Green Gold.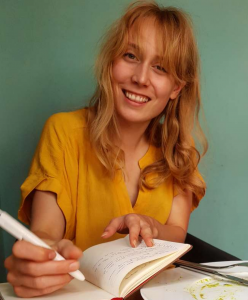 JENNA (20) Tampere, Finland  "Ciao! I'm Jenna, a 20-year-old girl from Finland taking a gap year after high school to explore the world and find my own passion. I found my way to Reggioli as I wanted to learn about living in harmony with nature and other people in an eco-community."
MARKUS (27) Brunico, South Tyrol
"Hello, my name is Markus and I'm from South Tyrol. I am a trained chef but at the moment I'm working as a vegetable gardener. In the last 3 years of life I did some research of my different abilities and now I found olive picking. In Reggioli we pick with hands and feet on strong and healthy trees, which i really enjoy – being a climber with a strong connection to nature. I appreciate a lot being with good people in a peaceful place, it's a unique experience. Here thoughts can be free if you let them…"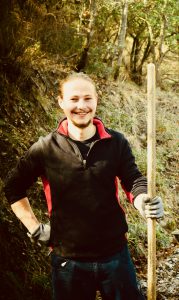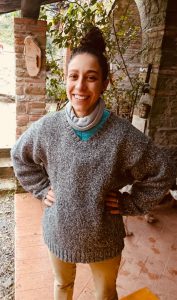 BARBARA (27) Umbria, Italy "My name is Barbara and I'm a 27 year old Italian. Thanks to my studies, natural science and epidemiological studies, I was able to travel a lot. After finishing my universtity I felt a strong need to listen to my iner self and get in contact with nature and life according to its rhytm. So I decided to come to Reggioli where I found a very authentic atmosphere meeting people who are able to transmit energy by just looking at you. I found a place where I find it more easier to believe in the collaboration of humans for a better world."

IRENE (23) Vipiteno, South Tyrol "Hey, my name is Irene and I'm 23 years old. I am from South Tyrol, Italy, where I worked till recently as a oculist. After several years of working in this shop I felt a more and more strong desire to get in touch with nature and people from all over the world. I found all this here in Reggioli. It's great fun to work together to create such a delicious product and to spend the days amidst the olives, hanging in the tree and leting the soul dangle to find myself."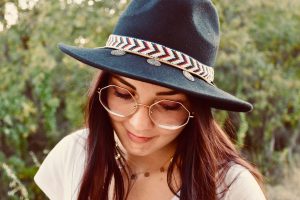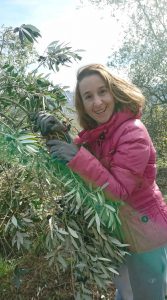 FEDERICA (31) Rome, Italy "Hello! My name is Federica from Rome and I'm a deaf girl. This is my first experience as a Woofer. That's why I want to share with you my experiences and feelings regarding this place and the family environment. The simplest way to describe what I could live here is one word: wonderful! This place has something magical and special, making me feel at home and offering me the possibility to improve my English in a international environment. Being deaf never stopped me from traveling and getting to know new people."
AXEL (19) Guatemala City, Guatemala "Why Reggioli? I really don'know. You can call it destiny, luck, casuality or God. This is a special place because people here is very special, and I am glad to be here. The olive picking isn't just a job, for me it was a way to connect with people, many people, from many places, with different perspectives of life working together for one purpose, it is something special."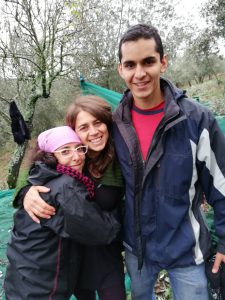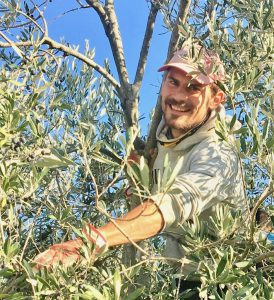 Markus (30) Brixen, Südtirol "Hi there, my name's Markus and I come from South Tyrol. It's nearly 8 month now that I am living in Reggioli as a volunteer and sympathizing with the idea of creating a sustainable community with a common vision for a more ethical world. Reggioli is very big and has a lot of beautiful places, a pristine nature offering incomparable panoramic views over Tuscany. However, in my opinion the finest place in Reggioli is in the crowns of Reggiolis' numerous majestic olive trees. This year's harvest is special for me because I could connect to this nature during the year when taking care of the terrasses. Furthermore, a good energy among the volunteers, visitors and permanent inhabitans makes the time even more abundand. Degusting the fresh olive oil right after the pressing process is priceless."
It is an unforgettable adventure and an ephemeral community, the intimate experience between Man and Nature.
Thus the oil of Reggioli is rich in stories and energy which makes it exceptional.
We thank you for choosing quality while simultaneously spreading the message of peace and harmony.
The production process
Given our desire to not to use mechanical processes we take advantage of the agility of our olive pickers who climb up to the trees with great pleasure. Thus there is no need to cut or prune the trees unnecessarily.
The group of 3-4 people spread the net under the olive tree, some climb up, the others pick from below while being careful not to trample the olives. When all the olives are in the net they are heaped up in order to deprive the superfluous leaves and twigs.
Next they are stored in 18 kg crates designed for the purpose and carried to an airy space to be ventilated.
Every three days we take olives to the mill where Christian carefully follows all the phases of the transformation.
This year we had a yield of 13.3% to 15.7% oil. This means that with 100kg of olives we obtained approximately 15.8 liters of oil taking into account that the precise weight of the
oil is 0.916 kg / liter.
From the mill we go back to the farm with our oil stored in steel barrels that we put in the stock room.
Our buyers can choose between various types of containers of different sizes. We ourselves carry out the bottling manually.
The label was designed by Lucile by printing olive leaves in wax and then painting with aquarelles, while Markus made the layout.
And this is how our oil is ready to be on the tables of the whole world …
Request the brochure with our price list via e-mail olio@reggioli.org